"Best doctor around! Dr Eberle and his staff are amazing! The professionalism they show every patient is beyond any expectations! They answer all questions and explain everything in full detail! I just had fillers done in my lips, was given a dental block by Dr. Eberle for comfort of the procedure. The procedure was painless! Was told I may get bruising, didn't happen. The swelling lasted a day and my lips look natural! So very happy!"
-Sharon E.
"I had the best experience from the moment I walked through the door. I was greeted by Elizabeth and the caring/attentive staff. Dr. Eberle was very personable, knowledgeable and made me feel comfortable. Highly recommend!"
-Danielle S.
"I had an incredible experience from start to finish. Elizabeth is simply amazing and Dr. Eberle surpassed my expectations. I am in love with the "new" me. I won't go anywhere else!!!"
​​​​​​​-Kemia D.
"Dr Eberlie is amazing at what he does!! I went in for a labiaplasty and the results are so much better than I could have imagined! He made me feel so comfortable about a procedure that can be a little intimidating. He explained everything so well and the results are just amazing. No scarring and the healing process was exactly as he said it would be. Elizabeth, his assistant, is such a wonderful person! She is always smiling and has such an amazing energy. She was there to answer all of my questions 24/7. Any time I was unsure about something she would always answer my texts and calls right away. It was such an easy experience from start to finish. I would recommend Dr Eberlie and his team to anyone for plastic surgery needs. They are the best!!"
​​​​​​​-Alexia L.
"From the minute I walked in Dr. Eberle's office I was greeted by the sweetest, friendly caring person I've yet to meet at a Dr office. Dr. Eberle is a professional and caring person, I did not think that what I had in my lip could be fixed and he did it and did an excellent job with very little time before my son's wedding. I highly recommend Dr. Ederle and his team. Thank you for bringing my smile back. I am forever grateful."
​​​​​​​-Olga A.
"Fabulous service. Everyone there makes you feel like part of the family. I highly recommend consulting with Dr. Eberle before making any decisions of such importance. He will tell you the truth and you can trust his expertise."
​​​​​​​-Renee Isler
"Professional, friendly, and efficient front desk staff! Dr.Eberle is a skilled physician. I am always pleased with my (natural) Botox results. I highly recommend using the Westin Center for Plastic Surgery if you are looking for a fresh natural new look."
​​​​​​​-Kim Farlow
"Thank you for my wonderful experiences at Weston Center for Plastic Surgery. I have received countless compliments from my Halo laser and my breast augmentation. Dr. Eberle and team makes you feel like family. I would highly recommend them for anything you might be interested in improving! I couldn't be any happier! Thank you again!"
​​​​​​​-Karen GM
"Dr. Eberle was highly recommended to me. He and his staff are amazing and made me feel very comfortable through all my appointments for my neck lift. He is professional, thorough, accessible and extremely well educated. I am absolutely thrilled with the outcome of my surgery and would recommend him to my friends. Thank you Dr. Eberle!"
​​​​​​​-Sue C.
"Dr. Eberle and the staff at Weston Center for Plastic Surgery are an amazing team to have when it comes to plastic surgery. For me, I had breast augmentation done recently and I JUST LOVE THE RESULTS!! They take care of everything right there at one location. I highly recommend using Weston Center for Plastic Surgery!"
-Shiela D.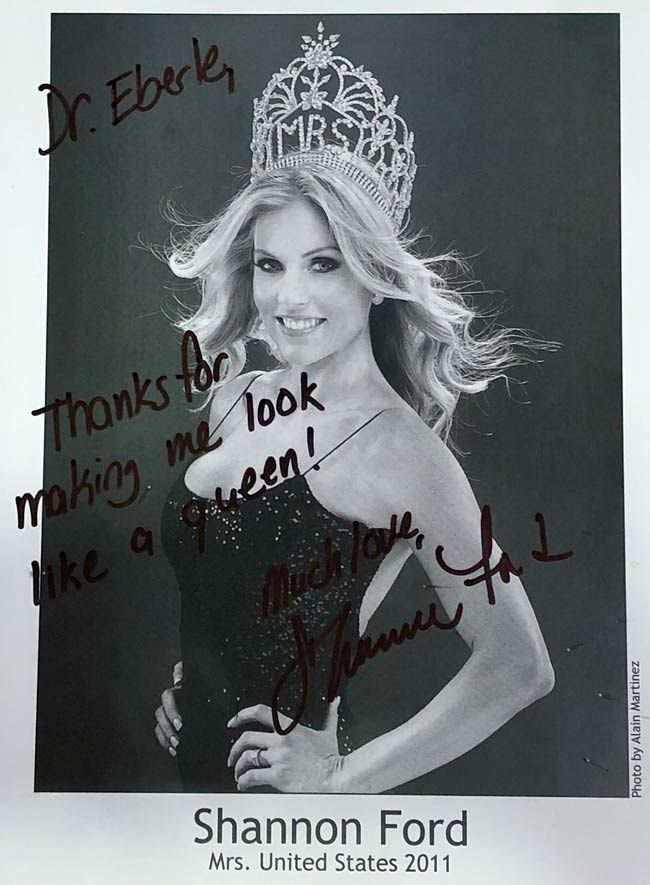 "Dr. Eberle,
Thanks for making me look like a queen!"
-Shannon Ford, Mrs. United States 2011
"Ana,
I am a happy person and motivational to others. This past 4 years has been a health crisis I didn't imagine. God must have been watch over me, as I can walk without a walker, I am almost out of pain, my vertebrae has accepted Donor bone and my stem cells. I am so very blessed to be out of bed and walking without assistance. Your office has completed my goal. After gaining 35 pounds and now back to my fighting weight, you have renovated my core to get ready to exercise and look like the woman I always wanted to me. I have challenges ahead that I can't wait to tackle. Thank you for being a big part of my goals in life. I have come full circle. Thanks to Dr. E, Ana and Nanette."
Blessed,
-Holly
"Dear Ana,
Somehow, just saying "thank you" doesn't seem like enough. But I hope you know how much your kindness has meant to me."
"Dear Dr. Eberle,
Thank you so much for the amazing treatment. I am so pleased with the results! You and your staff are awesome!"
"Dr. Eberle + Weston Staff,
Thank you so much for all of your help and care with all of our procedures. Especially thanks for the "hotel" calls while I was recovering! You are all great and we appreciate all of your care! Thanks again!"
– Kathy, Dena, Rachel
"Nathan, Thank you so very much for giving me the opportunity and the amazing results of your expertise. I am so happy with the results and can't imagine myself now another way! Enjoy!"
– Karen
"Dr Eberle: Thank you again for everything. I cannot wait for my swimsuit body :)!"
– Tam
"Ana, Christine, Nanette and Drs,
Thank you for all of your assistance! I hope you have a wonderful holiday season!"
"Thank you Dr. Eberle for your amazing work! I couldn't be happier!"
– Adrianna
"A great big Thank You to each of you, Barry, Nanette, Christine & Ana, for your excellent care and personal attention. You All are "The Best"."
"Hi, Just a little note to bring the warmest thanks for everything. Thank you for all you do. You rock. Love and prayers."
"Thank you for making us feel like family."
"I couldn't be more confident in my decision to use Dr. Eberle. His honest opinion, professional demeanor, and friendly smile gave me all the comfort I needed to put my trust in him. I would recommend him to anyone!"
~Brittany Sunrise, FL
"Dr. Eberle is such an amazing Doctor! He always pays attention to details and makes sure his patients are as comfortable as possible. His best feature is making you feel like you've known him forever. His work is amazing and he always puts the safety of his patients first. Dr. Eberle is a personable and professional Doctor!"
~Adrianna Ponte Vedra, Fl
"With just two laser treatments, she has really transformed my skin! I work in dermatology myself so choosing a medical provider is not easy–I only wanted the best. I am so happy that I did. The office staff at Weston Center for Plastic Surgery is very professional and kind. They have wonderful lasers (one of which I don't even have at my own office–which is why I travel to see her!) Thank you, for getting my skin ready for my upcoming wedding!"
~Kim W. from Fort Lauderdale, FL
"To the wonderful crew at the Weston Center For Plastic Surgery. Her gentle touch and knowledge of all the latest products and techniques puts her at the top of her game. I highly recommend her to anyone seeking to turn back the clock through non-invasive facial procedures."
~Nancy P. from Plantation, FL
Disclaimer: Results and patient experience may vary
We appreciate your loyalty! Please leave us a review on one of the following review sites: