Pre-Treatment, Post Treatment, and Regular DAILY Medical Skin Care - Recommendations
It is highly recommended that ZO Medical Skincare program is used as a daily skincare regimen, to keep your skin healthy, hydrated, glowing, and youthful.
Preconditioning promotes skin's renewal process for enhanced recovery, and it maximizes skincare penetration for optimum results. A typical preconditioning regimen starts several weeks before your treatment. Pre-conditioning also helps to minimize complications and enhance overall results.

Cleanse, exfoliate and tone should be an important part of your preconditioning regimen. Getting Skin Ready® not only helps to maintain skin health, but it minimizes excess oil and removes dead skin cells, which improves skincare active ingredients absorption. If your patients do not have a GSR® regimen, talk to them. It is the basic they need to be using.

Retinol is also a great option for preconditioning, since it supports skin restoration + resiliency which can help your skin become more tolerant to any in office treatment and may even minimize recovery time. Wrinkle + Texture Repair is a high-potency retinol formulated in a micro-emulsion delivery system. It supports skin's natural replenishment of hyaluronic acid and helps to visibly improve the appearance of wrinkles and skin texture.

Preconditioning skin in the weeks prior to your treatment builds skin tolerance to accept more aggressive treatments and can help improve recovery time. The lightweight, tolerable formulation of Firming Serum supports visible improvement in skin elasticity, firmness and hydration. If looking for more hydration before or after your treatment, Hydrating Crème aids in skin recovery and promotes healthy barrier function for overall skin health.

Avoid the Sun. Both leading up to and following your in-office treatment, you want to minimize your sun exposure. Wear clothes that cover your skin, reduce your time outdoors if possible and of course, use a broadspectrum sunscreen. All ZO® sunscreens are formulated with Triple-Spectrum Protection® which guard your skin against sun and light damage. Specifically designed for sensitized and post procedure skin, Broad-Spectrum Sunscreen SPF 50 offers a mineral-based formula that soothes and offers gentle hydration benefits.

Achieving + maintaining skin health is a unique journey for every person. The way that we address our individual skin health goals depends upon several factors and needs, ranging from our skin type, skin condition to lifestyle behaviors and more. It makes sense—no person is exactly the same and the same rings true for our skin. Skincare backed by science considers those differences and provides effective, science-based solutions.

One popular pathway that many patients take towards attaining their desired results is incorporating professional treatments + procedures into their overall skin health protocol. They are a great way to supplement your daily skincare regimen and can provide more noticeable, longer-lasting results.

From facials to chemical peels to laser therapy, there are numerous options available to get a variety of desired results with varying levels of recovery time. New ones are constantly being introduced and innovated, providing patients with a rich spectrum of options to suit all needs and circumstances.

Despite the variety, all treatments and procedures have one thing in common: no matter the treatment or procedure type, there are ways to maximize those benefits to get the most out of your experience. That common thread is how you support your skin before + after treatments.
Step One: Cleaner
Step Two: Exfoliating Polish
Step Three: Complexion Renewal Pads
Step Four: Apply ZO Firming Serum
Step Five: Apply ZO Growth Factor Serum
Step Six: Apply ZO Intense Eye Crème and
Step Seven: Apply ZO Eye Brightener
Step Eight: Apply ZO Hydrating Creme or ZO Renewal Creme
Step Nine: Apply the ZO Complexion Clearing Mask two times a week, or as needed as a spot treatment, after your cleanser, exfoliating polish, and complexion pad.

Remember to always apply application from décolleté / chest, up to neck, and up to your hairline, always working up and out, against gravity. Ensure each application is dried before apply the next product.

We offer also additional products that can be added to your daily regimen, such as ZO pigment control, ZO skin brightening, tretinon (RetinA), Retinol, acne control, cellulite control, and more that can be included in your post and daily skincare regimen. Call our office today and ask for more details at 954-507-4540.
TIPS & TRICKS:
Follow your skin care regimen guide so you know in what order products should be applied.
Make sure before applying another product, that your previously applied product is fully dried.
Use soft cloth and soft towels to avoid any scrubbing!
Make-up can typically be worn once the peeling process is complete. You can use the ELTAMD tinted sunscreen.
Wear a wide-brimmed hat or protective clothing for 3 months post treatment to avoid blistering, scarring, hyperpigmentation and hypopigmentation AFTER treatment.
Always wear ELTAMD Sunscreen
When showering, avoid getting shampoo directly on the treated area
Avoid strenuous exercise and sweating until after skin has healed


KITS CURRENTLY AVAILABLE:
ANTI-AGING PROGRAM KIT
A moderate skin care program for the reduction of early or significant signs of environmental and chronological aging.

5 PRODUCT REGIMEN:
1. Exfoliating Cleanser
2. Exfoliating Polish
3. Complexion Renewal Pads
4. Daily Power Defense
5. Growth Factor Serum
PIGMENT CONTROL PROGRAM + HYDROQUINONE PROGRAM KIT
An all-encompassing system formulated to help treat hyperpigmentation, severe texture damage and sun damage.

6 PRODUCT REGIMEN:
1. Gentle Cleanser
2. Exfoliating Polish
3. Complexion Renewal Pads
4. Daily Power Defense
5. Pigment Control Crème 4% HQ - RX
6. Pigment Control + Blending Crème 4% HQ - RX (this product is meant to be blended with Tretinoin)
COMPLEXION CLEARING PROGRAM KIT
A comprehensive program designed to minimize excess surface oil, unclog and cleanse pores and eliminate future breakouts.

4 PRODUCT REGIMEN:
Exfoliating Cleanser
2. Exfoliating Polish
3. Complexion Renewal Pads
4. Complexion Clearing Masque
DAILY SKINCARE PROGRAM KIT
The first line of defense against the natural aging process.

4 PRODUCT REGIMEN:
1. Exfoliating Cleanser
2. Exfoliating Polish
3. Complexion Renewal Pads
4. Daily Power Defense
SKIN BRIGHTENING PROGRAM KIT
A multi-product skincare system designed for the improvement of visible discoloration without the use of hydroquinone and retinol.

​​​​​​​5 PRODUCT REGIMEN:
1. Gentle Cleanser
2. Exfoliating Polish
3. Complexion Renewal Pads
4. Daily Power Defense
5. Brightalive® (Non HQ)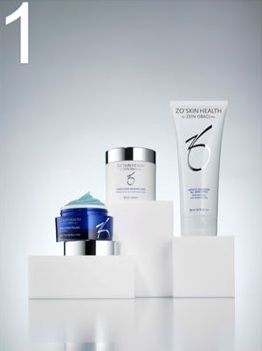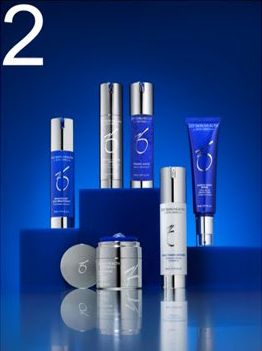 WHAT CAN ZO SKIN HEALTH DO FOR MY SKIN
PROTOCOL FOR VISUALLY IMPROVED APPEARANCE OVER A 12 WEEK DAILY PROGRAM REGIMEN.
STEP 1

EXFOLIATING CLEANSER - Helps to keep pores clear to minimize the frequency of breakouts
Purifying gel formulation provides both physical and chemical exfoliation benefits
GENTLE CLEANSER - Deeply cleans to remove oil, makeup, and other impurities
Silky gel formulation is ideal for all skin types
EXFOLIATING POLISH - Physically exfoliates off dead skin cells and other debris to improve skin radiance
Magnesium oxide crystals wash away clean, leaving skin instantly soft and smooth
COMPLEXION CLEARING PADS - Helps to brighten skin and clarify pores
STEP 2

GROWTH FACTOR SERUM - Formulated with a combination of plant and enzymatically derived growth factors,
clinically proven to:
Improve overall appearance of skin
Reduce appearance of fine lines and wrinkles
Restore hydration and reinforce the skin's protective barrier
93% of patients experienced improvements in fine lines and wrinkles, firmness and elasticity + texture and
smoothness, after 12 weeks of using Growth Factor Serum.

FIRMING SERUM - Visibly tightens and firms the skin
Improves the appearance of sagging and skin laxity
Helps define facial contours
Supports the appearance of healthy skin and the skin's natural renewal process
Defends against free radical damage
DAILY POWER DEFENSE - Defends skin against oxidative damage from free radicals
Visibly reduces signs of premature aging
Accelerates barrier restoration + extended skin hydration
Supports continuously healthy skin
AOX ILLUMINATING SERUM - Delivers advanced, all-day environmental protection, including proven pollution
defense
Visibly reduces premature signs of aging
Supports continuously healthy skin
Restores youthful luminosity to dry + dull skin
Blurs imperfections for a smooth finish
BRIGHTALIVE - Helps to fade the size and intensity of dark spots
Improves luminosity, clarity and overall skin quality
Delivers lightweight hydration
Mild, gentle formula
STEP 3

WRINKLE & TEXTURE - Helps reduce the appearance of lines + wrinkles (.05% Retinol)
Supports the appearance of smooth skin texture
Improves skin function and the skin's ability to retain hydration
INTENSE EYE CRÈME - Helps diminish the appearance of fine lines and wrinkles
Optical light diffusers reflect light to minimize imperfections

Visibly protects against free radical damage
EYE BRIGHTENING CRÈME - Helps support skin's elasticity
Helps reduce the appearance of puffiness
Softens the appearance of fine lines
HYDRATING CRÈME - Restores hydration and soothes the appearance of visible redness
With continued use, patients reported that their skin felt healthier and smoother, and was more hydrated and less red
RENEWAL CRÈME
- Promotes rapid moisture replenishment with a weightless feel
Supports a healthy protective barrier to enable a more uniform + healthy appearance
Visibly softens fine, dynamic lines
Fragrance-free
ADD ON's:

ACNE CONTROL - Helps neutralize bacteria-causing acne/breakouts
RETINOL SKIN BRIGHTENER 1% - Promotes exfoliation to eliminate uneven skin tone and improve skin smoothness
Supports skin's resiliency against future discoloration aggressors
Specially encapsulated to deliver a targeted, controlled release of retinol for maximized brightening
Contains calming + soothing properties for improved product experience
DUAL ACTION SCRUB
- Provides both physical and chemical exfoliation benefits
Reduces surface oil
Ideal for use on face + body
ENZYMATIC PEEL - Helps smooth uneven, rough textured skin
Revitalizes dull looking skin
Improves the visible signs of sun damage
Enhances the benefits of any ZO® Treatment
RADICAL NIGHT REPAIR - Formulated with 1% retinol to help improve the appearance of skin texture, uneven pigmentation and fine lines and wrinkles.
Helps improve the appearance of skin's brightness and provides a more even skin tone
Helps minimize the appearance of fine lines and wrinkles
Helps calm and soothe the skin
BODY EMULSION - Exfoliates dead skin cells to soften and smooth skin texture
Restores hydration
Exclusive 12-hour time-release antioxidant complex
Helps even skin tone
CELLULITE CONTROL - Smooths skin and helps diminish "orange peel" appearance
Provides the appearance of a slimming and toning effect
Restores hydration
COMPLETION CLEARING MASQUE - Absorbs surface oils
Helps clear out clogged pores
Can be used as a spot treatment on blemishes
Anticipated Reactions: Initial redness, flakiness, dryness, burning, or stinging are all normal, anticipated reactions when starting retinol. With regular product use, skin will acclimate, revealing a smoother, more eventoned and youthful-looking complexion. Pair your retinol with a ZO® hydrator (Renewal Crème or Hydrating Crème) to minimize anticipated reactions.
ZO SUNSCREEN + PRIMER BROAD-SPECTRUM SPF 30 - This dual-action sunscreen, with ZOX12® complex, protects against the damaging effects from UVA/UVB and IR-A rays, and from HEV light. Hydrates and doubles as a makeup primer for a smooth matte finish, diminishing skin imperfections.
ZO SMART TONE BROAD-SPECTRUM SPF 50 - A lightweight sunscreen with a self-adjusting tint that complements most skin tones while providing a healthy, hydrated glow. Featuring an exclusive antioxidant complex while protecting against the aging effects of UVA/UVB, IR-A rays and HEV light.
ELTAMD Tinted 40SPF or Clear 46SPF Sunscreen - has hyaluronic acid to boost moisture retention and diminish fine lines. This lightweight moisturizer with UV protection can be worn alone or under makeup. UVA/UVB sun protection
For more details on ingredients and products please visit ZOSkinHealth.com