Breast augmentation, or a boob job, is the most popular form of cosmetic surgery in the world. During this procedure, board-certified plastic surgeon Nathan Eberle, M.D., D.D.S., use silicone or saline breast implants to increase the size of a woman's chest by several bra-cup sizes. Thousands of Fort Lauderdale and Broward County area women have enhanced their cleavage and given their breast size a boost with breast augmentation at the Weston Center for Plastic Surgery.
Breast Augmentation at a Glance

Avg. Surgery Time
1 Hour
Anesthesia
General (a formal breathing tube is not used so you will not end up with a sore throat)
Location
Certified in-office Operating Room or Outpatient Surgery Center
Recovery
Back to work in less than 1 week
Cardio exercise in 2 weeks
Full exercise in 6 weeks
Improving the Experience
Scar recovery program included Keller funnel- enables Dr Eberle to make smaller incisions leaving fewer scars
Mentor Enhanced warranty
EXPAREL long lasting pain control for a pain free experience
Am I a Good Candidate
Healthy
Unhappy with size and shape of breasts
Realistic goals and expectations
WHAT IS BREAST AUGMENTATION?
Breast augmentation is a plastic surgery procedure to augment the size of a woman's breasts. This is normally achieved by inserting breast implants behind the natural breast to make the woman's breasts appear larger.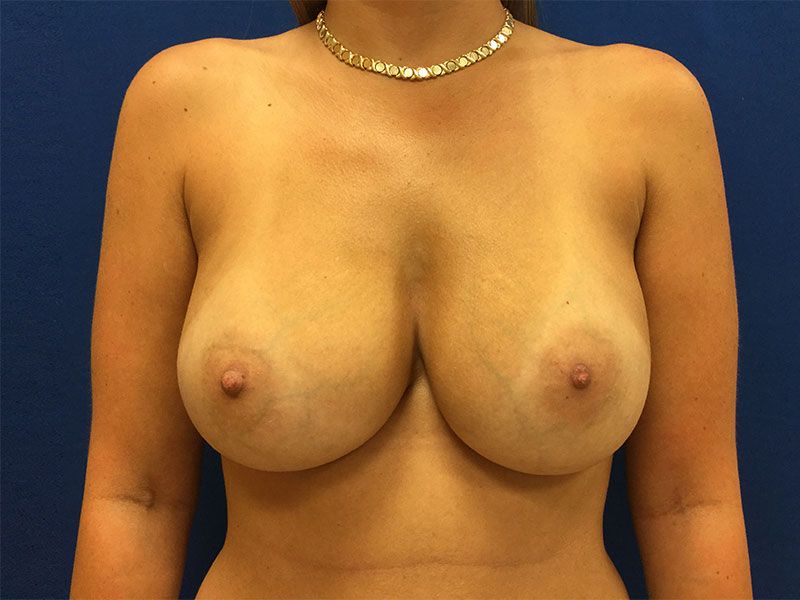 BENEFITS OF BREAST AUGMENTATION
Breast augmentation can improve the self-esteem and confidence of women who have always felt uncomfortable with their small breasts, or women who have lost breast tissue, due to aging, weight loss, pregnancy or other medical conditions. For many women, finally having the figure of their dreams improves their entire outlook on life.
HOW INVOLVED IS THE BREAST AUGMENTATION PROCEDURE?
Breast augmentation requires general anesthesia and usually takes about one hour. First, the surgeon will create incisions around the nipple and/or areola, or under the breast. Through this incision, the breast implant is placed behind the muscle. Finally, sutures are used to hold the incision lines closed. Dr. Eberle uses EXPAREL®, a non-narcotic local analgesic, to minimize pain before you wake up from surgery, making the days after surgery more comfortable.
IS BREAST AUGMENTATION RIGHT FOR ME?
If you've always wished that your breasts were larger or felt that they were too small for the rest of your frame, breast augmentation may be right for you. Other women seeking a boob job have lost some of their natural breast volume as a result of aging or pregnancy and are looking to restore their previous breast size through the use of implants. Ideal candidates are in good overall health and have reached adulthood. Teenagers are advised to wait to consider surgery, as their breasts may still be growing.
HOW LONG IS THE RECOVERY AFTER BREAST IMPLANTS?
Most women who undergo a boob job take between one to two weeks away from work. Although, newer techniques help to make the procedure nearly pain-free and the recovery time quicker. These improved techniques help to increase post-surgery mobility as well. However, strenuous exercise should be avoided for up to six weeks. During the recovery period, some common side effects include tenderness, soreness, swelling and bruising. A surgical bra is worn to support the new contours of the breasts for several weeks.
HOW MUCH DO BREAST IMPLANTS COST?
The exact price of your breast implants will depend on the material and size of breast implant used, along with other considerations related to your surgical plan. Financing is available.
WHAT SHOULD I DO NEXT?
If you live in Fort Lauderdale or Broward County and have always wished for larger, more voluptuous breasts, consider breast augmentation via breast implants. Contact board-certified plastic surgeon Nathan Eberle, M.D., D.D.S., today for your consultation at the Weston Center for Plastic Surgery.