WHAT IS A CHIN IMPLANT?
A chin implant, also called chin augmentation surgery, is a cosmetic surgical procedure that adds definition, volume and proportion to an underdeveloped chin using implants that are inserted inside the chin. Chin implants are used in the chin augmentation procedure to increase the size and define the shape of the chin, resulting in a more balanced facial structure.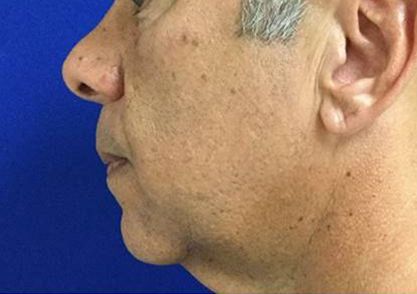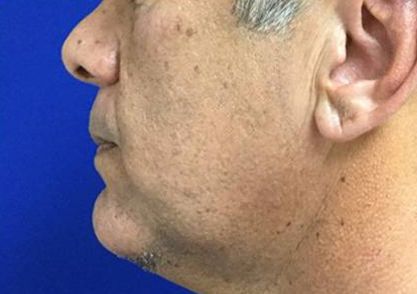 BENEFITS OF A CHIN IMPLANT
Chin augmentation adds proportion to the chin and provides a balance between the chin and other facial features. A weak or underdeveloped chin makes the neck appear fleshy and the face withdrew. It exaggerates the appearance of the nose, making the nose and forehead look disproportionately large, and creating an imbalanced profile. Chin augmentation via the insertion of chin implants restores harmony and proportion to the facial features and balances the overall structure of the face.
IS A CHIN IMPLANT RIGHT FOR ME?
A chin implant may be right for you if you feel like your chin is not defined enough. This technique is used to build a better facial silhouette and can help make your jawline appear stronger. The goal of this treatment is to enhance the facial proportions by adding volume to the chin area. Ideal candidates are men and women over the age of sixteen who are in good general health.
HOW INVOLVED IS THE CHIN IMPLANT PROCEDURE?
Chin augmentation can often be performed under local anesthesia, though more complex chin implant placement surgeries may require general anesthesia. It usually takes one hour to insert the implant. First, an incision will be created under the jawline. Then, a silicone implant that has been shaped to achieve the desired effect is inserted underneath the soft tissues of the chin. Finally, the incision is closed with sutures.
HOW LONG IS THE RECOVERY AFTER CHIN AUGMENTATION?
The recovery process after receiving a chin implant is usually about a week, although strenuous exercise and extensive movement of the facial muscles should be avoided for several additional weeks. During the recovery period, side effects such as tenderness, redness, and bruising are common. Patients are advised to keep their neck and head elevated, even while sleeping, wear a button-down shirt to avoid unnecessarily bumping the chin area, and eat soft foods. Some effects of chin implant surgery will be immediately visible, although swelling can obscure the full results for up to a month.
HOW MUCH DOES CHIN AUGMENTATION COST?
The cost of chin augmentation depends on surgical specifics, such as the type and size of chin implants and the extent of the surgical reshaping of the natural tissues required when inserting the implant. Financing is available.
WHAT SHOULD I DO NEXT?
If you live in Fort Lauderdale or Broward County and are looking to bring balance to your facial silhouette and enhance the contour of your chin, a chin implant may be right for you. To learn more, contact double board-certified plastic surgeon Nathan Eberle, M.D., D.D.S., F.A.C.S at the Weston Center for Plastic Surgery today for your